Show description
Wholesale Despicable Me
A&K Hosiery have a superb range of Wholesale Despicable Me Merchandise all Offically Licensed available at cheap Wholesale Prices, including Wholesale Despicable Me Backpacks, Wholesale Despicable Me Hats, Wholesale Despicable Me Socks, Wholesale Despicable Me Beach Products and many more.
Despicable Me is an animated comedy about a villain who adopts 3 girls who strives to become a better villain by stealing the moon. Also staring everyones favourite yellow minions.
As well as supplying Shops, Markets, Amazon and eBay sellers, A&K Hosiery have also supplied Paramount Studios - BBC - Big Brother - Sky Television - Warner Brothers - Virgin Atlantic & many more.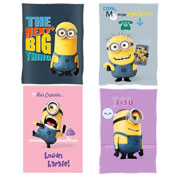 Size. 100cm x 150cm (Approx) Packaging. Single Design. Despicable Me 4 Assorted ...