Wholesale JCB Socks
Show description
JCB are the number 1 work boot socks in the UK. Perfect for all environments. The range of JCB Mens boot socks come in a mix of styles and all have the famous JCB logo on them.
A&K Hosiery can offer you an exclusive UK Wholesale collection of JCB socks at low trade prices.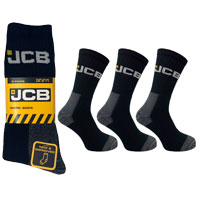 Size. 6-11Packaging. 3 Pair PackColours. BlackMinimum purchase. 1 Dozen PairsFib...
Out of Stock